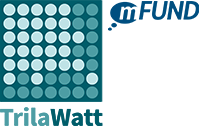 The mFUND project Digital hydro-morphological twin of the Trilateral Wadden Sea – TrilaWatt – is funded by the German Federal Ministry of Digital and Transport for 3 years starting 01.01.2022 and is carried out by the Federal Waterways Engineering and Research Institute (BAW), smile consult GmbH, Wadden Sea Forum e. V. and planGIS GmbH.
TrilaWatt develops an innovative digital geodata and analysis infrastructure for the trilateral Wadden Sea (Netherlands, Germany and Denmark).
This supports the planning and maintenance of transport infrastructure with harmonized, quality-assured data on geomorphology, sedimentology and hydrodynamics.
Geodata, analysis and documentation methods are linked via Web portals and services to form an interactive web viewer.