The main objective of the project is to establish a digital twin of the trilateral Wadden Sea, consisting of
a powerful geodata and analysis infrastructure connected with
enhanced data of the entire Wadden Sea from NL, DE and DK.
This new infrastructure will be integrated into the existing web portal and interface of the Marine Data Infrastructure Germany MDI-DE, which will
provide standardized services for search, visualization and download
for quality-assured geomorphology, sedimentology and hydrodynamics geodata.
Practical applications will be used to demonstrate the functionality of this infrastructure.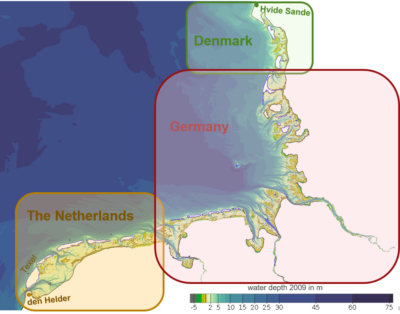 Project scope for TrilaWatt. The existing data base, the simulation model and analysis tools for the German part will be extended to the Dutch and Danish parts.